Building career opportunities, nationwide.
If you've ever dreamed of a rewarding career with an industry leader, let's talk about how you can help us deliver the finest homes in the nation to our customers. We need your expertise, creativity, and most importantly—your enthusiasm. Get started on your career with America's Luxury Home Builder by checking out some roles we offer below or by using our job search.
View Current Openings
Assistant Land Development Manager
Assistant Land Development Managers entitle and develop land for new communities. Responsibilities include helping oversee day-to-day field operations, maintaining a project budget, issuing change orders, reviewing invoices, updating project schedules, and routinely attending meeting with governmental agencies, inspectors, and HOA's.
Assistant Land Development Managers will join our Land Development team in taking on due diligence, planning, entitlements/approvals, land clearing, mass earthwork/grading, installation of utilities, construction of roads, pump stations, water/wastewater plants, playgrounds, and club houses at Toll Brothers communities across the country.
In this position, you'll be paired with a Land Development mentor who will guide you throughout a 12-month training period to learn Toll Brothers' processes.
Applicants with a degree in Land Planning, Civil Engineering, Construction Management, and related majors are encouraged to apply.
Familiarity with grading, storm drainage, sanitary sewer, water systems, and roadways is preferred.
Opportunity for individuals with field construction management experience, or an interest in managing development projects.
Assistant Construction Manager
Assistant Construction Mangers assist in supervising on-site construction, including the scheduling of sub-contractors, resolving day-to-day problems on the job site, and inspecting work done to ensure compliance with plans and specifications. Essential responsibilities might include obtaining necessary permits, ordering materials, maintaining job site cleanliness, and working with management to set up and monitor the construction schedule.
Must have some experience in construction or with a trade.
Applicants should have high school diploma or equivalent. Degree in Construction Management or a related field is a plus.
Strong organization and people skills required.
We offer construction focused training opportunities to develop Assistant Construction Managers into Construction Manager.
Opportunity for those passionate about residential construction and looking to expand their construction and project management skills.
Land Acquisition Analyst
Land Acquisition Analysts work independently to perform sophisticated land use and financial analyses and participate in due diligence, including concept land planning and environmental, utility system, and title analysis.
Bachelor's degree in Finance, Real Estate, Business, Urban Planning, or a similar field is desired. A Master's degree is a plus.
Experience working at a private equity, acquisitions, REIT, or investment bank is a plus.
Applicants should have outstanding proficiency in creating complex financial models for real estate financial analysis using Excel. Should also be proficient with Microsoft Word, PowerPoint, and AdobePro. Strong financial modeling and analytical skills required. Must possess a practical approach to problem solving with a detail-oriented eye and be a team player who thrives within an entrepreneurial yet collaborative culture.
Opportunity for dynamic and forward-thinking real estate development professionals to grow your career with one of America's most elite developers.
Management Associate
In the Management Associate role, you gradually assume responsibility for land acquisition and development, land and entitlement approvals, profit and loss, managing sales and marketing and overseeing new home construction, including trade partner relations.
Seeking those with graduate degrees in fields such as Real Estate Development, Construction Management, and Land Development. Candidates with a Bachelor's degree in relevant fields and experience working for national homebuilders are also encouraged to apply.
Internship or work experience in homebuilding, construction, and sales a plus.
Perfect for individuals looking to become well-rounded, multi-faceted real estate development professionals who want to be immersed in land acquisition and development, new community setup, sales, purchasing, quality assurance and production of luxury homes.
Associate Sales Consultant
Associate Sales Consultants work in a training capacity with the goal of becoming a Sales Consultant.
Responsible for assisting to achieve all community sales goals, including generating traffic numbers, agreement of sales, and high customer satisfaction and serving as a point of contact to deliver a luxury customer experience from a customer's first visit through move-in.
1+ year of sales and/or customer service experience preferred. Real estate license is required in some states.
Should have the ability to learn and utilize core applications such as Salesforce, Pivotal, Microsoft Office, and E1.
Great for self-starters who are interested in developing sales techniques to generate leads and gain customer commitment.
University Recruiting
Each year our University Recruiting team visits career fairs across the country to meet talented students interested in our early career opportunities. See below for our current campus recruiting schedule. We look forward to seeing you in person or virtually this winter and spring!
9/7 - Villanova University: All Majors Career Fair (In Person)
9/8 - University of Pennsylvania: Career Link Career Fair (Virtual)
9/15 - North Carolina A&T: All Majors Career Fair (Virtual)
9/15 & 9/16 - Texas A&M University: CIAC Career Fair (In Person)
9/20 - Penn State University: A&E Career Fair (In Person)
9/20 - Cornell University: Real Estate Career Fair (In Person)
9/21 - University of Wisconsin: Accounting/Finance/Real Estate Career Fair (Virtual)
9/22 - Prairie View A&M University: All Majors Career Fair (In Person)
9/22 - Boise State University: Construction Industry Career Fair (In Person)
9/28 - Arizona State University: SSEBE Construction Career Fair (In Person)
10/12 - Drexel University: STEM Career Fair (Virtual)
11/9 - Kennesaw State University: STEM Career Fair (Virtual)
Internships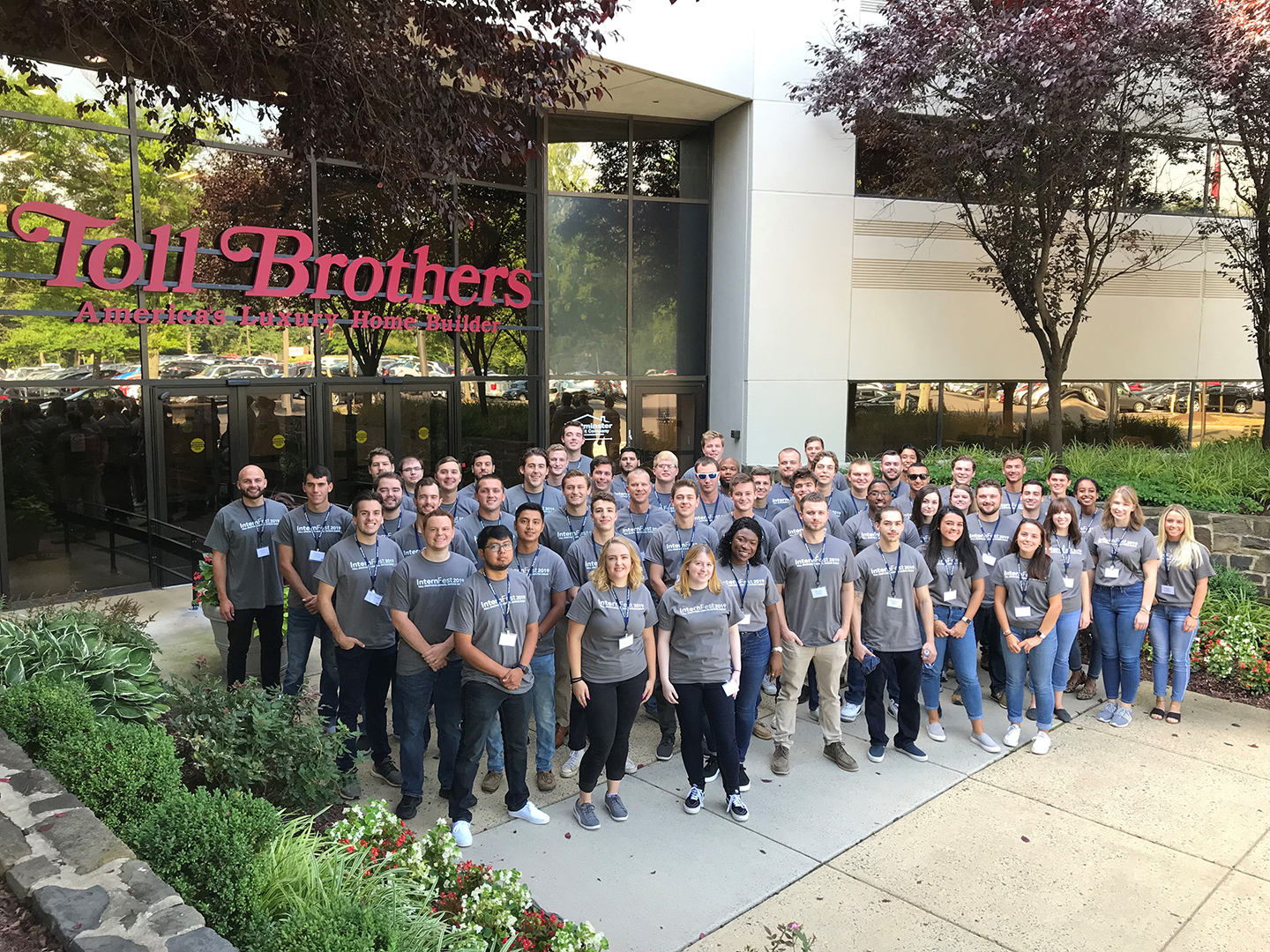 Jumpstart Your Career
If you're interested in seeing what it's like to work at the nation's leading builder of luxury homes, consider applying for an internship at Toll Brothers. We are looking for talented individuals who are eager to learn and passionate about their field of study.
Our internship program gives you an incredible opportunity to work with a Fortune 500 company and jumpstart your career. Throughout the program, you'll gain valuable experiences, strengthen your expertise, and grow your network. We are always looking for rock star interns who may be able to transition to a full-time hire, so we encourage you to apply!
There are two main categories of internships: Operations and Corporate. Read below to learn more. If you're interested in a Toll Brothers internship, click here to apply. We typically begin our recruiting season in the fall for summer internships.
OperationsSpend your summer helping us bring one of our unique communities across the nation to life. It's a great opportunity to obtain foundational industry knowledge and gain hands-on experience on an active job site.

You'll spend approximately 12 weeks getting hands-on experience helping to oversee day-to-day operations on the job site. Your Operations internship could be with one of our various field teams, such as Construction Management, Community Planning, Land Development, Land Acquisition, Engineering, Purchasing or Manufacturing.

The Operations internship is ideally for college students pursuing a degree in Construction Management, Civil Engineering, Real Estate, Business, or a related field, and those with a strong passion for home building.
CorporateJoin one of our various departments at our state-of-the art Corporate Office in Fort Washington, Pennsylvania for valuable summer work experience in your area of interest.

You will have the opportunity to work in a dynamic corporate setting, network with leaders and other interns, and understand how our functional groups work together to support the delivery of Toll Brothers homes and communities.

The Corporate internship may be most suitable for students pursuing a degree in Finance, Marketing, Risk Management, Information Technology, and Construction Management, but all applicants are welcome.
Testimonials
My internship with Toll Brothers confirmed my decision to study construction management in college. After my internship, I felt excited, motivated, and confident about my future career. Not only did I get great job experience outside of the classroom as a Toll Brothers intern, but I also gained an appreciation for everyone's role in the home building process. Following my internship, I accepted a full-time position with Toll Brothers, where I am proud to have spent the past few years and look forward to many more career opportunities as part of the nation's leading luxury home building company
-Mark, former intern and current Construction Manager, PA
Many students think that they must have their specific industry or profession set in stone by the time they are attending college, but that is simply not true. Only through the process of being exposed to the real industry and its professionals will you identify your true interests and the applicability of your skillset and temperament to that career path. I had never even heard of the land development profession prior to my junior year in college, but through networking and listening to mentors who had the experience that I lacked, I was steered into the path that was right for me.
My advice to students seeking an internship is to expose yourself to as many of the different facets of the company as you can. Be curious and seek knowledge not only from mentors but also from your own self learning. School is just the beginning of your learning but the best way to learn is by doing.
-Demerius, former intern and current Land Development Manager, Dallas, Texas
After working in government and engineering firms, I decided to try a new experience in the homebuilding industry. I accepted an offer as a Land Development intern and loved it. They really show you all aspects of the company. I shadowed someone in every position and was able to get a feel for all the options in Toll Brothers. My favorite part was the community, everyone seems to be working as the collective "Team Toll Brothers" instead of their personal gain. I could tell there was a comradery that I didn't see anywhere else. It's the perfect work hard, play hard atmosphere. One of the reasons I chose to work here full time was the resources available for me to learn. I would tell current students to get as much career experience before graduation as possible. It makes it easier to decide where you want to be in life and how to interact professionally. It's also great for resumes and you never know, Toll Brothers might call and offer you a full-time job (that's what happened to me)!
-Madison, former intern and current Assistant Land Development Manager, Colorado