Internships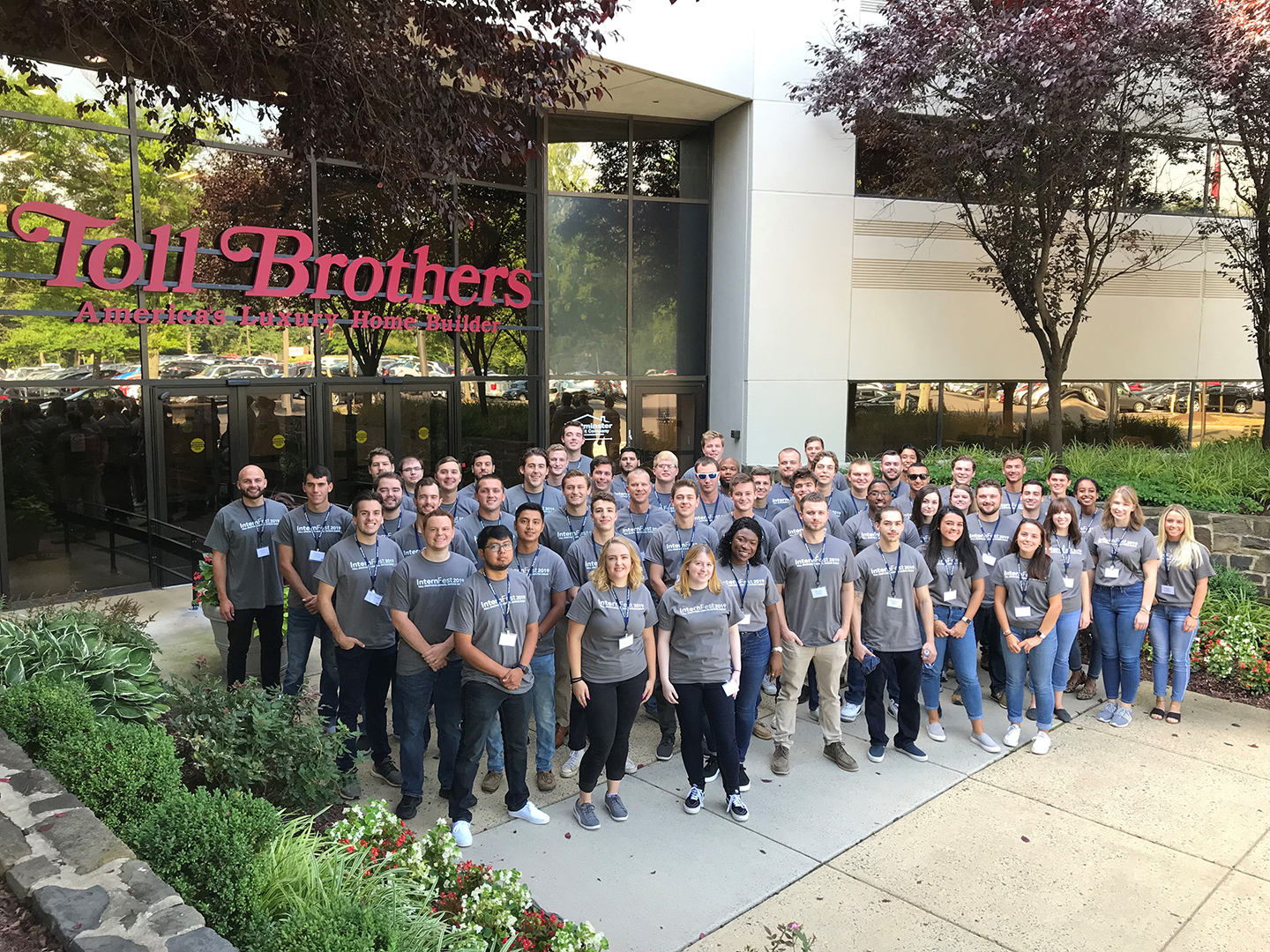 Jumpstart Your Career
If you're interested in seeing what it's like to work at the nation's leading builder of luxury homes, consider applying for an internship at Toll Brothers. We are looking for talented individuals who are eager to learn and passionate about their field of study.
Our internship program gives you an incredible opportunity to work with a Fortune 500 company and jumpstart your career. Throughout the program, you'll gain valuable experiences, strengthen your expertise, and grow your network. We are always looking for rock star interns who may be able to transition to a full-time hire, so we encourage you to apply!
There are two main categories of internships: Operations and Corporate. Read below to learn more. If you're interested in a Toll Brothers internship, click here to apply. We typically begin our recruiting season in the fall for summer internships.
OperationsSpend your summer helping us bring one of our unique communities across the nation to life. It's a great opportunity to obtain foundational industry knowledge and gain hands-on experience on an active job site.

You'll spend approximately 12 weeks getting hands-on experience helping to oversee day-to-day operations on the job site. Your Operations internship could be with one of our various field teams, such as Construction Management, Community Planning, Land Development, Land Acquisition, Engineering, Purchasing or Manufacturing.

The Operations internship is ideally for college students pursuing a degree in Construction Management, Civil Engineering, Real Estate, Business, or a related field, and those with a strong passion for home building.
CorporateJoin one of our various departments at our state-of-the art Corporate Office in Fort Washington, Pennsylvania for valuable summer work experience in your area of interest.

You will have the opportunity to work in a dynamic corporate setting, network with leaders and other interns, and understand how our functional groups work together to support the delivery of Toll Brothers homes and communities.

The Corporate internship may be most suitable for students pursuing a degree in Finance, Marketing, Risk Management, Information Technology, and Construction Management, but all applicants are welcome.
Testimonials
My internship with Toll Brothers confirmed my decision to study construction management in college. After my internship, I felt excited, motivated, and confident about my future career. Not only did I get great job experience outside of the classroom as a Toll Brothers intern, but I also gained an appreciation for everyone's role in the home building process. Following my internship, I accepted a full-time position with Toll Brothers, where I am proud to have spent the past few years and look forward to many more career opportunities as part of the nation's leading luxury home building company
-Mark, former intern and current Construction Manager, PA
Many students think that they must have their specific industry or profession set in stone by the time they are attending college, but that is simply not true. Only through the process of being exposed to the real industry and its professionals will you identify your true interests and the applicability of your skillset and temperament to that career path. I had never even heard of the land development profession prior to my junior year in college, but through networking and listening to mentors who had the experience that I lacked, I was steered into the path that was right for me.
My advice to students seeking an internship is to expose yourself to as many of the different facets of the company as you can. Be curious and seek knowledge not only from mentors but also from your own self learning. School is just the beginning of your learning but the best way to learn is by doing.
-Demerius, former intern and current Land Development Manager, Dallas, Texas
After working in government and engineering firms, I decided to try a new experience in the homebuilding industry. I accepted an offer as a Land Development intern and loved it. They really show you all aspects of the company. I shadowed someone in every position and was able to get a feel for all the options in Toll Brothers. My favorite part was the community, everyone seems to be working as the collective "Team Toll Brothers" instead of their personal gain. I could tell there was a comradery that I didn't see anywhere else. It's the perfect work hard, play hard atmosphere. One of the reasons I chose to work here full time was the resources available for me to learn. I would tell current students to get as much career experience before graduation as possible. It makes it easier to decide where you want to be in life and how to interact professionally. It's also great for resumes and you never know, Toll Brothers might call and offer you a full-time job (that's what happened to me)!
-Madison, former intern and current Assistant Land Development Manager, Colorado